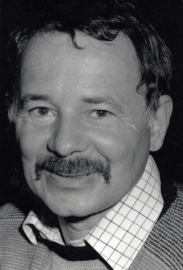 Fritz Borchert
Has in over 30 years travelled to all corners of the World to cover International Squash Events. His pictures are widely used in many Squash Publications.
As International Editor for the German speaking Publication SQUASH TIME and it previous Titles, as well as others, he provides also the appropriate Text from Events. As one of the first, he embraced the digital age in photography, he says: "Digital Photography is made for Squash, but to keep up with the development of equipment, is a bit of an expensive headache".
For several year, in the founder stages of Squashsite.co.uk it was his photographs that helped to establish the site's reputation in the Squash World.
All good things come to an end. So at the WO in Rotterdam (Netherlands) Fritz bid his fair-well from the international Tournament Scene, having received many well wishes from around the world.
Sitting on one of the World's largest Squash picture Library, Fritz will however stay in touch with the Squash-World, keeping SquashInternational.com alive and interesting.
Address:
Fritz Borchert
48 Resolution Close
Chatham
Kent, ME5 7RJ
U.K.
Tel.: +44 (0) 1634 686 333

E-mail: fritz.borchert@btinternet.com
Pictures Services:
For Personal use and Personal Promotion only
- £15.00 per picture, as attachment, in high resolution
- 4 or more pictures 10% discount.
Pictures for leaflets, books, posters, programs, etc. by negotiation.
Please note, all Cheques to be made out to E. Borchert only.