1990: CATHY PACIFIC-DRAGONAIR HONG KONG OPEN
Jansher Khan takes Hong Kong Open
In absence of the great Jahangir Khan, the way was free for his Successor, fellow Countrymen Jansher Khan to add to his collection another prestige's Title at the Cathy Pacific Dragenair Hong Kong Open.
Jansher had reached the Semi-finals without great problems, but here he met the tough Australian Chris Dittmar. Losing the opening game, he then run out, after a lengthy battle, a 3-1 winner.
In the other Semi, Chris Robertson beat Del Harris of England, 3-0.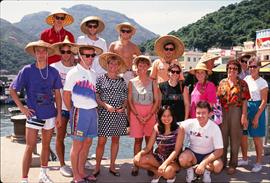 The final in the Hong Kong Squash Centre at Cotton Hill Drive saw a very entertaining match, with Jansher Khan a happy new Champion.
Results:
Semi-finals:
Jansher Khan (Pak) bt. Chris Dittmar (Aus) 15-17, 15-9, 15-10, 15-9
Chris Roberson (Aus) bt. Del Harris (Eng) 15-13, 15-11, 15-6
Final :
Jansher Khan bt. Chris Roberson 15-6, 14-15, 15-10, 15-6
---
1990: HI-TEC BRITSH OPEN
Record 9th title for Jahangir Khan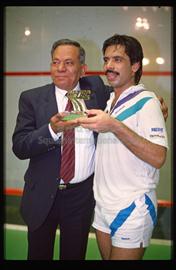 In the presence of his father Roshin Khan, himself a British Open winner (1956/7), wrote Jahangir Khan, with his 9-6, 10-8, 9-1 win over Australian Rodney Martin, in the final of Hi-Tec British Open Squash Championships in London's Wembley Conference Centre, a new page into the record books. The full house witnessed some emotional scenes, underlining the importance of this milestone in Squash History.
"PICTURES IN TOURNAMENTS"
---
1996:Al Ahram International
THE MOST MAGICAL SQUASH TOURNAMENT OF ALL TIME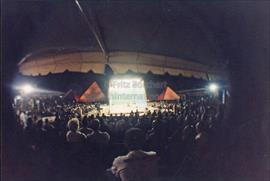 The Al Ahram International 1996 became a milestone in the history of Squash. The Egyptian Squash Federation with the mighty Sponsor Al Ahram, the leading Arab newspaper, managed to persuade their government to give permission, to stage a Squash Tournament on a Glass court in front of the Pyramids of Giza, something that had never been tried before. This event became the landmark for many tournament Organisers, in the hunt for sites, which would make headlines, well before a ball was struck.
As then Egyptian Star Ahmed Barada managed to reach the final, Squash rivalled many other Sports in the news that week. That World champion Jansher Khan with a 15-4, 15-11, 15-8 win, made the golden trophy his own, could not dampen the enthusiasm of the large crowd.
"PICTURES IN TOURNAMENTS 1996"
---
2002:COMMONWEALTH GAMES, MANCHESTER

Her Majesty the Queen opened the XVII Commonwealth GamesOn Thursday the 24th of July her Majesty the Queen opened the XVII Commonwealth Games in the City of Manchester Stadium. A grand opening, with a great firework display and the appropriate speeches.
Squash, at his 2nd appearance in this games, played a prominent part in the sport proceedings. Not all expectation of the home nation was fulfilled in the National Squash Centre in Sportcity. It was the 28-year-old New Zealander Leilani Rorani , who totalled most by managing 2 Gold Medals, partnering in the Women Doubles Carol Owens and in the mixed doubles Glen Wilson.


Australia's single Gold came from Sarah Fitz-Gerald's win over Carol Owens in the women's singles final and Canada took Gold from Jonathon Power's win over Peter Nicol in the men's singles final
A hard fought victory of England's Peter Nicol and Lee Beachill over Favourite's Stewart Boswell/Anthony Ricketts bagged the only Gold for the home nation.
Results:
Commonwealth Games Singles:
Jonathon Power (Can) bt Peter Nicol (Eng) 9-2, 4-9, 9-3, 9-0 (67 mins)
Sarah Fitz-Gerald (Aus) bt Carol Owens (NZ) 9-5 9-0, 2-9, 9-8 (56 minutes)

Commonwealth Games Doubles Squash Mixed Doubles Final:
Glen Wilson/Leilani Rorani (NZ) bt Ong Beng Hee/Nicol David (Mas) 15-11 15-9
Womens Doubles Final:
Leilani Rorani/Carol Owens (NZ) bt Cassie Jackman/Tania Bailey (Eng) 15-11 5-15 15-13
Men's Doubles Final:
Peter Nicol/Lee Beachill (Eng) bt Stewart Boswell/Anthony Ricketts (Aus) 15-11 15-12




---



2013:WSF MEN'S WORLD TEAM CHAMPIONSHIPS

England Upset Title-Holders Egypt To Win World Team Title In FrancePHOTOS IN TOURNAMENTS
In a dramatic final of the WSF Men's World Team Squash Championship in France which went the full distance, second seeds England upset defending champions Egypt to reclaim the sport's most prestigious trophy for the fifth time since 1995.



Daryl Selby put the underdogs ahead before world number one Ramy Ashour evened matters for Egypt, the top seeds bidding to become the first nation since 1987 to win the title three times in a row.
In the decider, world No4 James Willstrop made up for his loss to Karim Darwish at the same stage of the previous final two years ago to beat the world No5 11-3, 11-13, 11-3, 11-5 to clinch the title for England for the first time since 2007.




---



2012:CANARY WHARF CLASSIC
Willstrop Wins Fourth Canary Wharf Classic Crown


PHOTOS IN TOURNAMENTS
James Willstrop collected his fourth Canary Wharf Classic title with a stunning display of quality squash to subdue his England team-mate Peter Barker in the final of the PSA World Tour International 50 event at East Wintergarden in London.

Willstrop even had time to throw in a few attempts at matching the amazing triple-fake shot he produced in the recent Davenport North American Open and launched an internet sensation.
He won both the third and fourth games by an 11-4 margin to clinch a fourth title in his sixth final with at a packed East Wintergarden with 11-8, 5-11, 11-4, 11-4. It was the first final in the tournament's history to be concluded in less than an hour.
While the majority of the London crowd may have been cheering for local favourite Barker, they acknowledged the sheer mastery of a sporting genius playing squash of a phenomenally high standard.
Willstrop, who won the very first Canary Wharf final against Frenchman Thierry Lincou as a 20-year-old in 2004, was delighted to claim his first PSA World Tour title since beating Egypt's Ramy Ashour in the final of the North American Open in February last year.

RESULTS: PSA International 50 Canary Wharf Classic, London, England
Final:
[2] James Willstrop (ENG) bt [4] Peter Barker (ENG) 11-8, 5-11, 11-4, 11-4 (57m)





---



2008: Kuwait past & present
PSA World Series Kuwait PSA Cup,KuwaitPICTURES IN TOURNAMENTS 2008



Ramy is the Kuwait PSA Cup Champion

Ramy Ashour justified his top billing in the final of the Kuwait Cup with a sensational performance to defeat reigning champion James Willstrop in four games in front of a packed, noisy, and mainly Egyptian supporting crowd at the Qadsiya Club in Kuwait City.

It was Englishman who started the match better though, soaking up the world number one's attacks as he took the first game with some comfort, and continued to impress for the first half of the second game.

Slowly but surely though the pressure was building, and Ashour's pace around court and renowned shotmaking ability was taking its toll, as he pulled clear to level the match.





That pattern continued in the next two games in which Willstrop could only muster six points - by the end Ashour was revelling in it, and was just too fast, too accurate, and had too many shots.

As he hit the winning shot deep to the back of the court he turned to acknowledge the fans who had supported him all the way.

Ramy thus collects his third Kuwait Open/Cup title, wins his seventh major PSA event in a row, including all three World Series events this year, and extends his unbeaten run to 36 matches, well ahead of anyone other than Jansher and the watching Jahangir Khan - although he has a way to go to beat that particular record ...
Result: Kuwait PSA Cup FINAL:

[1] Ramy Ashour (Egy) 3-1 [3] James Willstrop (Eng)
6/11, 11/8, 11/3, 11/3 (58m)



go to Tournaments 2008




---



2012:ATCO World Series Squash Finals

SHABANA CROWNED KING OF THE SQUASH COURT AT QUEEN'S


Egypt's Amr Shabana came through an intriguing battle with Frenchman Gregory Gaultier to take the title at the ATCO World Series Squash Finals today, whilst World number one Nicol David (Malaysia) continued her domination of the women's game with victory at the famous Queen's Club, London.
Shabana avenged his defeat to Gaultier in the event's group stage earlier in the week, eventually winning the epic battle 6/11, 12/10, 11/7, 7/11, 11/8 in 91 minutes. The thrilling encounter was an exhibition of the highest calibre squash for the sell-out crowd at Queen's and audience of its live broadcast on Sky Sports.
On winning his first title on English soil, the 2012 ATCO World Series Squash Finals Champion, Amr Shabana said: "I was nearly out of the sport last year. If it wasn't for my family and friends – like Greg – I think I would have retired.
"I live on to fight one more day."
Gaultier added: "To me, he is still the best player and a great example to the younger players."
Women's World No.1 Nicol David closed out three tight games to come through her final test in straight sets against Madeline Perry. Perry will feel like she had to opportunity to test the World Champion to a greater extent after the first two games but ultimately fell to an 11/9, 11/9, 11/9 (41m) defeat in their best of five match-up.





---



2011:World Open Squash "PICTURES IN TOURNAMENTS"


Mighty Matthew Retains World Open Title



Nick Matthew, who last year became the first Englishman to win the PSA World Open squash title, today became the first player for 15 years to defend the premier PSA World Tour crown when he beat Frenchman Gregory Gaultier in a stunning 92-minute final before a packed crowd at the New Luxor Theatre in Rotterdam.
Gaultier, playing in his third World Open final since 2006, pulled away to take a tough first game - but the 31-year-old from Sheffield took an equally tough second, then pulled clear at the end of the third after the Frenchman took a small injury break after a mid-court collision.
The defending champion made a strong start to the fourth, and at 6-1 it looked as if the end was in sight. But Gaultier, appealing to the crowd for help, started on a comeback that was cut short at 6-4 by a couple of errors.
Once Matthew had re-established the lead, the Yorkshireman closed out the match 6-11, 11-9, 11-6, 11-5 - and raised his arms in triumph.
"Being called 'double World Open champion' - it sounds amazing," said the jubilant Matthew after receiving his trophy - and consigning the Frenchman to his third runner-up finish. "I can't tell you how tough playing Greg is. We've been playing since we were 15 or 16. I have two or three years on him, but it shows how tough he is that even at 16, he was pushing and beating me sometimes when I was 18. He's younger than me and he will get his name on this trophy, no doubt.

RESULTS: PSA World Open, Rotterdam, Netherlands
Final:
[1] Nick Matthew (ENG) bt [6] Gregory Gaultier (FRA) 6-11, 11-9, 11-6, 11-5 (92m)
----------------------------------------------------------------------------------

Nicol Supreme for Six


Malaysian superstar Nicol David collected a record SIXTH World Open title here at the Luxor Theatre in Rotterdam with a supreme performance to dismiss second seed Jenny Duncalf in straight games in just under half an hour.

Nicol led 5/0 in the first after some long opening rallies, taking it 11/2, she led 6/2 in the second, finishing it off 11/5, and was totally dominant in the third as Duncalf's spirit visibly wilted.
Six titles in seven years for Nicol. Supreme.

"She was ridiculously good today," admitted Duncalf. "I wanted to stay on there as long as possible, but she had other ideas…"
Nicol was impressed too: "This is my best performance ever. I didn't expect anything but I wanted it so badly, I didn't want anybody to put their hands on that trophy but me. I had a great support in the crowd, they were magnificent, I had my parents, Liz, and a big team of supporters from Squash City in Amsterdam that came to support me.

"My World Open titles mean the world to me, but I would gladly trade the six of them for just one Olympic Medal…"

Result:
[1] Nicol David (Mas) bt [2] Jenny Duncalf (Eng) 11/2, 11/5, 11/0 (28m)




---



2011:QATAR CLASSIC"PICTURES IN TOURNAMENTS"


Five for Nicol and first for Gregory Gaultier


Nicol David claimed her fifth Qatar Classic title with an impressive straight-games win over Madeline Perry, who summed up the performance of her Malaysian opponent as "too fast, too accurate, too good.
For Gregory Gaultier it was a first Doha title as he took a two-game lead over English rival James Willstrop, who stormed back to take the third but lost out in a tense finish to the fourth and final game. Gaultier thus collected his first major title for over two years, and boy was the Frenchman happy ...

Results FINALS:
[1] Nicol David (Mas) bt [4] Madeline Perry (Irl) 11/2, 11/7, 11/3 (33m)
[6] Gregory Gaultier (Fra) bt [4] James Willstrop (Eng) 11/8, 11/7, 2/11, 11/8 (70m)





---


2011:ROWE British Grand Prix






2011:Ramy Ashour Retains ROWE British Grand Prix Title"PICTURES IN TOURNAMENTS"
After winning just a single point in the opening game, Egypt's world No2 Ramy Ashour went on to overcome Nick Matthew, the world number one from England, in four games in the final of the ROWE British Grand Prix to retain the PSA World Series squash title at the National Squash Centre in Manchester.



Matthew was in dazzling form in the first game while Ashour had a 'fallout', he later admitted.
As more and more errors crept into the local hero's game and as the mercurial Egyptian claimed winners from all parts of the court before going on to claim his 1-11, 11-3, 11-7, 11-4 victory in 67 minutes.
The triumph marks Ashour's third PSA World Series title of the year, and the 22nd Tour trophy of his career.
"This court has never let me down," said the 23-year-old from Cairo who is unbeaten on the ASB all-glass court in four appearances since the World Open in 2008. "It's just an honour to win this prestigious event another time.
"That was the best game I played all through the tournament," added the jubilant Egyptian. "I felt I got better and better all week.



RESULTS: PSA World Series ROWE British Grand Prix, Manchester, England
Final:
[2] Ramy Ashour (EGY) bt [1] Nick Matthew (ENG) 1-11, 11-3, 11-7, 11-4 (67m)






---




2011:MEN'S WORLD TEAM CHAMPIONSHIPPICTURES IN TOURNAMENT


Egypt Clinch World Title After Thrilling Final


Egypt sensationally retained their title in the WSF Men's World Team Squash Championship after upsetting favourites England 2/1 in a thrilling final today in Paderborn, Germany.
The 23rd staging of the World Squash Federation event - the first senior world championship since the IOC announcement that Squash is on the shortlist for Olympic inclusion in 2020 - has been taking place in Germany for the first time.
With sell-out crowds throughout the week, the final between the top two seeds on the spectacular new blue all-glass showcourt at the Ahorn-Sportpark was the dream climax to an event which is being hailed as the best world championship ever.
Hosts Germany, the 16th seeds, beat Netherlands 2/0 in the play-off for ninth place to record their best finish since 1997. "It really could not have been better," said Simon Rosner, the Paderborn-based German number one who has been the championship's ambassador. "For me, personally, it was awesome to beat three players (Laurens Jan Anjema, Shahier Razik and Borja Golan) who I've never beaten before.





---


2011: ISS CANARY WHARF CLASSIC
MATTHEW MASTERS BARKER TO RETAIN
HIS ISS CANARY WHARF CLASSIC TITLE


World champion Nick Matthew retained his ISS Canary Wharf Classic title last night by overcoming a fierce challenge from No.4 seed Peter Barker.
Matthew, the 30-year-old world No.1 from Sheffield, fought back after losing the opening game to win 5-11, 11-4, 11-1, 11-3.
Both players were forced into some gut-wrenching retrievals to keep in play some spectacular attacking shots from each other.
Barker, buoyed by his first-ever career victory over No.2 seed James Willstrop the previous evening, started in positive fashion.
He looked focused and disciplined as he constructed tight rallies that presented serious problems for the top seed.

Matthew was impressed by the success of the Video Replay trial organised by the PSA that enabled players to direct an appeal a TV judge, who was able to study replays of any controversial incident before making a decision that flashed up on the huge screen above the front wall of the glass court.
He said: "I think it worked well. There were one or two tweaks by the end of the week and allowing one appeal per game, plus one in the tiebreak, was the right number.
"It cut out the arguments between players and referees and helped the crowd to get involved in the whole process."

ISS CANARY WHARF SQUASH CLASSIC
East Wintergarden, Canary Wharf, London

Final
(1) Nick Matthew (England) beat (4) Peter Barker (England) 5-11, 11-4, 11-1, 11-3 (58 mins)




---


2011:ATCO PSA World Series FinalsFINAL:
Following the 'technical fault' which halted the presentation of this weekend's final of the ATCO PSA World Series Finals, when the inflatable structure at The Queen's Club in London in which it was due to be staged became unsafe, the Professional Squash Association has pledged to restage the finale as soon as possible.
-----------------------------------------------
Friday 14-01-11

Matthew & Shabana To Contest World Series Final in LondonEngland's Nick Matthew will play Amr Shabana, Egypt's four-time world champion, in the ATCO PSA World Series Finals final after convincing victories in the semi-finals of the flagship $110,000 PSA World Tour squash event at The Queen's Club in London.
Matthew, the world No1, world and Commonwealth Games champion, beat long-time rival and fellow Englishman James Willstrop in a one-sided match 11-4, 11-6, 11-8. Shabana wasted little time in ousting Ramy Ashour, his younger compatriot and one of the future stars of the game, in a repeat of the 2009 World Open final.



The Egyptian left-hander, 31, will now attempt to win for the first time on British shores after finishing runner-up here on four occasions since first reaching the final of the British Junior U14 Open in 1993. Ashour, feeling the effects of a hamstring injury, went down 4-11, 5-11, 5-11 in 27 minutes.
"Playing here at Queen's is proud moment," Shabana admitted afterwards. "I have always enjoyed watching the tennis on TV since I was a kid. Hopefully Nick and I can play another great match in front of this great crowd."

RESULTS: ATCO PSA World Series Finals, London, England
Semi-finals:
[2] Nick Matthew (ENG) bt [3] James Willstrop (ENG) 11-4, 11-6, 11-8 (46m)
[4] Amr Shabana (EGY) bt [1] Ramy Ashour (EGY) 11-4, 11-5, 11-5 (27m)





---



2010: Saudi PSA World OpenPICTURES IN TOURNAMENT




Nick Matthew Wins Historic World Open TitleNick Matthew overcame a tired fellow countryman James Willstrop in the final of the $327,500 Saudi PSA World Open Squash Championship in Saudi Arabia to become the first English World Open champion in the 34-year history of the sport's premier event.
The climax of the richest PSA World Tour championship of all-time, at Sunset Beach Resort in the Saudi Arabian city of Al-Khobar, was a repeat of October's Commonwealth Games final in Delhi - and extends Matthew's unbeaten Tour run over his England team-mate and fellow Yorkshireman to nine matches since December 2007.
Matthew, the top seed from Sheffield, reached the final after dethroning title-holder Amr Shabana, the former world number one from Egypt who was in line to win the title for a fifth time.
But Willstrop arguably had a more brutal route to the final, fighting off marathon challenges from two further England team-mates Daryl Selby and Peter Barker in the third round and semi-finals, respectively.
The 27-year-old sixth seed from Leeds started the more impressively, surging ahead from seven-all to take a well-deserved first game lead after 21 minutes - causing Matthew to concede his first game of the tournament.
But Willstrop's earlier toil began to take effect as Matthew began to dominate - drawing level after a further 18 minutes before going on to wrap up the match, and his first World Open title, 8-11, 11-6, 11-2, 11-3 in 74 minutes.

RESULTS: Saudi PSA World Open, Al-Khobar, Saudi Arabia
Final:
[1] Nick Matthew (ENG) bt [6] James Willstrop (ENG) 8-11, 11-6, 11-2, 11-3 (74m)




---



Qatar ClassicPICTURES IN TOURNAMENT


Karim Claims Qatar Classic Crown


Third-seeded Egyptian Karim Darwish upset compatriot Amr Shabana in the final of the $147,500 Qatar Classic to win his second PSA Super Series squash title in three weeks at the Khalifa International Tennis & Squash Complex in Doha.
Both players had reached the climax after gruelling five-game semi-finals - Darwish, the world No3, gaining his first win over England's world No2 Nick Matthew in almost two years, and reigning world champion Shabana overcoming France's fourth seed Gregory Gaultier.
Darwish recovered from a game down to beat Shabana, the second seed looking for his maiden Super Series title his year, 8-11, 11-2, 11-7, 11-6 in 54 minutes.

Nicol David Celebrates Half Century In Qatar


Malaysian squash star Nicol David reached another significant milestone in her illustrious career when she beat Australian Rachael Grinham in the final of the $74,000 Women's Qatar Classic to net her 50th WISPA World Tour title at the Khalifa International Tennis & Squash Complex in Doha.
The top-seeded world number one overcame the disappointment of losing at the semi-final stage last year by beating unseeded Egyptian Nour El Tayeb to reach the 2010 final.
And the climax against career-long rival Rachael Grinham, the fourth seed and a former world champion, marked the pair's 32nd Tour clash since the first in April 2000 in Malaysia.
David was in dominant form from the outset, triumphing 11-5, 11-8, 11-9 in just 34 minutes to claim her fourth Qatar Classic crown since 2006.

RESULTS: Qatar Classic, Doha, Qata
Finals:
[3] Karim Darwish (EGY) bt [2] Amr Shabana (EGY) 8-11, 11-2, 11-7, 11-6 (54m)
[1] Nicol David (MAS) bt [4] Rachael Grinham (AUS) 11-5, 11-8, 11-9 (34m)




---


ROWE British Grand Prix

Ashour Beats Willstrop To Deny English British Grand Prix WinPICTURES IN TOURNAMENTS




"He's got my number at the minute," admitted a dejected James Willstrop after the English hope went down in four games to Egypt's world number one Ramy Ashour in tonight's (Monday) final of the ROWE British Grand Prix, the biggest squash event in Europe this year at the National Squash Centre in Manchester.
The climax of the $92,500 PSA Super Series event was the eleventh meeting of the pair's careers, and their fourth this year - Yorkshireman Willstrop winning the first in the Tournament of Champions final in New York to take the first PSA Super Series title of the year, and Ashour twice gaining his revenge in his home town Cairo and last month in Hong Kong.
At one game apiece, a more assured Ashour returned for the third and Willstrop seemed unable to match the speed and accuracy of Egypt's latest squash star. After 40 minutes, it was second seed Ashour who raised his hands in triumph to celebrate his 11-7, 3-11, 11-3, 11-5 victory.
RESULTS: ROWE British Grand Prix, Manchester, England
Final:
[2] Ramy Ashour (EGY) bt [5] James Willstrop (ENG) 11-7, 3-11, 11-3, 11-5 (40m)




---


ISS CANARY WHARF SQUASH CLASSIC
NICK MATTHEW WINS ISS CANARY WHARF SQUASH CLASSICPICTURES IN TOURNAMENTS



Top seed Nick Matthew won his first ISS Canary Wharf Classic title by overpowering Frenchman Gregory Gaultier in tonight's final.

The 69-minute victory crowned a magnificent week for the 29-year-old world No.2 from Sheffield, who was kept on court for more than two hours in his semi-final battle with fellow Yorkshireman James Willstrop the previous evening.

Matthew showed few signs of fatigue following one of the most epic battles in squash history and it was Gaultier who blamed tiredness for letting slip a 6-2 lead in the third game.

Gaultier was still ahead at 9-6 but was unable to convert that lead as Matthew forced the second tiebreak of the match, finally clinching it 13-11 after Gaultier held game ball at 11-10.

Matthew then ran out an easy 11-3 winner in the final game as Gaultier's challenge wilted.

Result: ISS Canary Wharf Squash Classic Final, East Wintergarden, Canary Wharf, London:
(1) Nick Matthew (Eng) beat (2) Gregory Gaultier (Fra) 12-10, 6-11, 13-11, 11-3 (69 mins)




---




2009:SAUDI INTERNATIONAL
Ramy Rallies To Saudi Success - & World No1 Ranking


It was a dramatic 110-minute final that brought the 2009 Saudi International to a fitting climax today (Friday) at Sunset Beach in Al-Khobar in Saudi Arabia when Egyptian Ramy Ashour not only clinched the $250,000 PSA World Tour Super Series squash title in sensational style, but ensured that he would become number one in the PSA world rankings in January 2010 for the first time.
Described by Professional Squash Association (PSA) CEO Alex Gough as "the most incredible, most tense match I have seen in a long time", the clash was watched not only by a packed - and partisan - crowd at Sunset Beach willing 'local' hero Ashour to win, but also by thousands of squash enthusiasts around the world via the new internet TV streaming service www.psasquashtv.com launched by the PSA at the final Super Series event of the year.
The match was not only Ashour's longest of the tournament - but his longest all-time (by almost 20 minutes) on the PSA World Tour.
Despite missing out on the world number one spot, world No4 Matthew has the consolation of knowing that he will rise to a career-high No2 in the January list.
"We fought hard, really we fought all the way, but there is an immense respect between us too," said the 29-year-old from Sheffield. "I think we both played well tonight, and there was the smallest of margin at the end.

.Result Final:
[1] Ramy Ashour (Egy) bt [3] Nick Matthew (Eng) 11/7, 7/11,
11/9, 9/11, 11/8 (110m)




---


QATAR CLASSIC
Matthew & Duncalf Celebrate Qatar Classic Double
In a sensational day for English squash at the Khalifa International Tennis & Squash Complex in the Qatar capital Doha, Nick Matthew and Jenny Duncalf both beat higher-ranked opponent in today's (Monday) finals of the Qatar Classic in straight games, to claim their biggest titles on the international Tours.



Matthew, fourth seed in the men's $147,500 PSA World Tour Super Series event, knocked out Karim Darwish, the defending champion from Egypt who has topped the world rankings for most of this year.

Earlier Duncalf, who like Matthew is also from Yorkshire, followed her second upset in two weeks over Malaysia's world number one Nicol David yesterday, to crush Australia's world No4 Rachael Grinham in the climax of the $74,000 WISPA World Tour championship.
Indeed, it took 27-year-old Duncalf, the world No6 from Harrogate, only 23 minutes to despatch Grinham 11-5, 11-3, 11-3 – thus reducing the 8-4 career head-to-head lead the Queenslander boasted before today's clash.
The stunning victory brings Duncalf's tally of Tour wins this month to three – following the Soho Square Championship success in Egypt on the first of the month, and her triumph in the US Open in New York just seven days later.



Results Qatar Classic Finals:
[4] Jenny Duncalf (Eng) bt [2] Rachael Grinham (Aus)
11-5, 11-3, 11-3 (23m)
[4] Nick Matthew (Eng) bt [1] Karim Darwish (Egy)
11-5, 12-10, 11-6 (50m)






---


2009:FOREXX WOMEN'S WORLD OPEN
Nicol David Wins Fourth World Open Title



Defending champion Nicol David destroyed Dutch dreams of local success in the Forexx Women's World Open Squash 2009 when she beat Netherlands number one Natalie Grinham in today's (Sunday) final of the $118,000 WISPA World Tour event at Frans Otten Stadion in Amsterdam.
The Amsterdam-based Malaysian now becomes only the third player in the history of the championships to win four titles, alongside Australia's Sarah Fitz-Gerald and New Zealander Susan Devoy.
But it was second seed Natalie Grinham, showing the form of her life in these championships, who set the early pace in the 30th international meeting of their career - dropping just three points en-route to taking the first game.
Midway through the second game, it was again Grinham who looked to be heading to victory - a win which would have been her first over the long-time world number one since April 2007, and one which would have reduced the 22-7 head-to-head lead that Nicol had as the pair took to the court.
Natalie Grinham was clearly devastated by the defeat: "I'm still thinking about the game," said the 31-year-old from Almere shortly afterwards. "I wish there was more to play.
"When I think of how sick I was at the start of the year, being able to get a silver medal in the worlds is a great achievement in a way - I'm really delighted to be competing again at such a high level.
"But I've been second three times already, and I didn't come here to be second again, so of course I'm disappointed.
"I thought I was definitely up there."
Final:
[1] Nicol David (MAS) bt [2] Natalie Grinham (NED) 3-11, 11-6, 11-3, 11-8 (51m)